I'm just happy that this bruising fight is going to go on for a bit: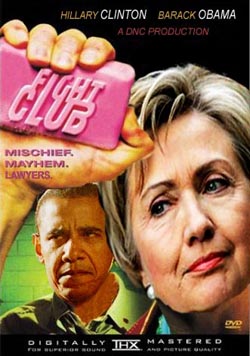 Meanwhile, you've got Obama's increasingly unpleasant wife calling America a "downright mean country," which will please the Edwards-lovin', America-hatin' nutroots and few else.
Mrs. Obama begins with a broad assessment of life in America in 2008, and life is not good: we're a divided country, we're a country that is "just downright mean," we are "guided by fear," we're a nation of cynics, sloths, and complacents. Why, she's just a regular ray of sunshine, a beacon of HOPE, isn't she? I don't know how her husband can stand listening to her without reaching for the razor blades. My guess is that she must play a mean banjo.

And to put the exclamation point on Little Miss Revolutionary Thing, Gateway Pundit has a photo of Michelle Obama hugging the staffer who flies the Che flag at her Obama office. Good Times!